The modular difference: making decks affordable and easy to install
A deck is a beautiful way to improve your home and landscape. It's a place to grill out, spend time outside, and make memories. The deck industry has been the same for far too long; requiring skilled professionals, expensive materials, and time to schedule and get the job done.
Not anymore.
Our decks are revolutionary
Our concept is revolutionary and allows anyone to install a deck at their home in as little as one day. Browse our selection of decks on the website or visit us to view our outdoor showroom to find the right size and color for your home.
We'll deliver the deck to your door: pre-cut materials that require nothing on your end, other than assembly. The tools you'll need are a hammer, drill, level, tape measure, pencil, and a buddy to help you with the project.
If you aren't a Do-It-Yourself'er or home improvement project warrior, we offer pre-assembled decks that we can deliver to your door and install for you. You can also pick any size Pre-Cut Deck Kit, and have Modular Decks of America install it for you. It only takes a few tools: a drill, hammer, level, tape measure, pencil and a buddy to help you assemble the deck.
a pre-cut deck kit fits any home improvement budget
You pick the assembly plan that fits your budget best:
You can build it yourself with our materials, delivered to your home, pre-cut and ready to assemble.
Modular Decks of America can do a full installation of your Deck Kit in one day or less.
Need some help getting started? Partial installs are available; our staff will hep you with the more advanced steps (choose which steps you need help with to customize this plan).
Our Exit and Grill Deck options come pre-assembled. These pre-built decks will be delivered to your door and installed by our team in no time.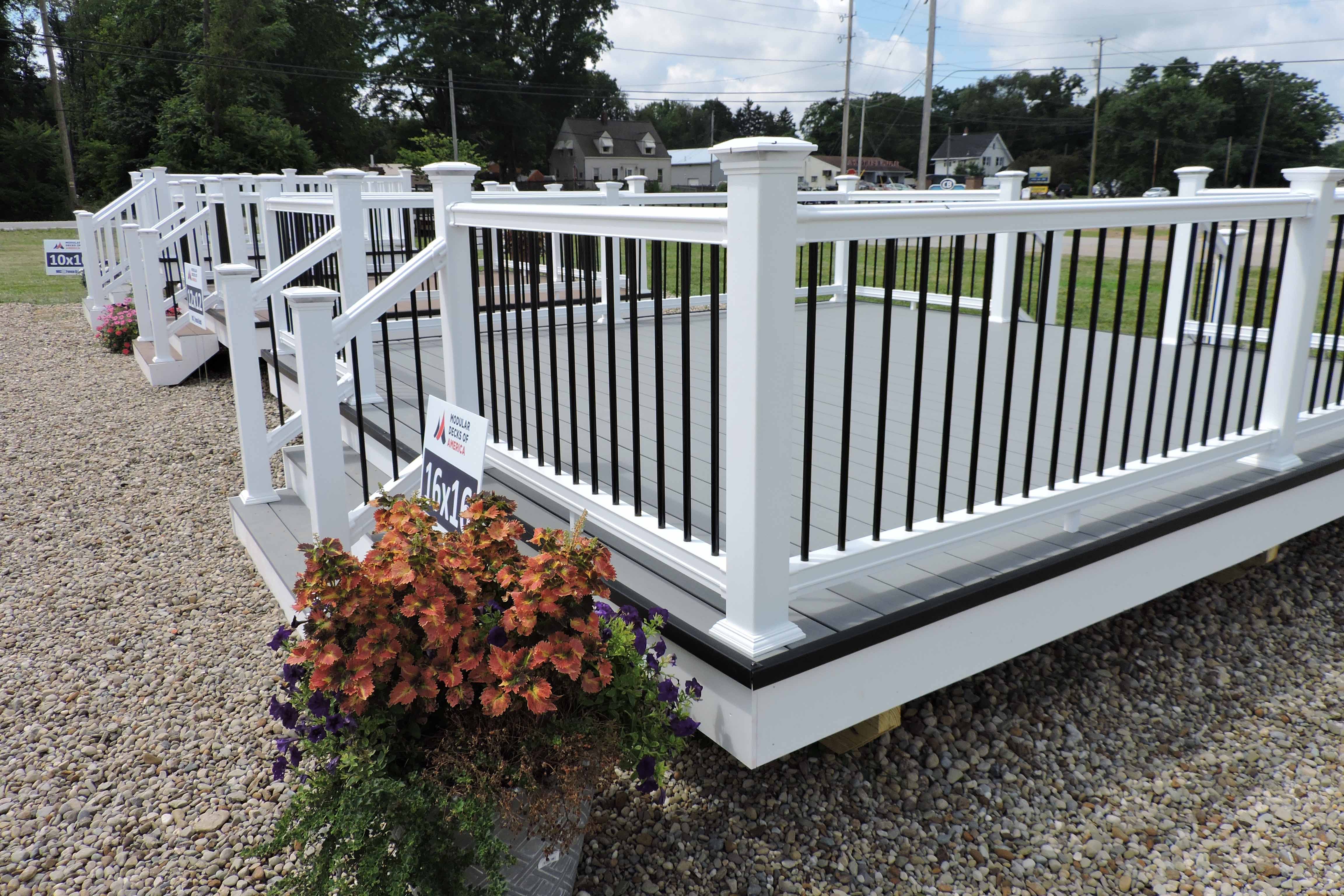 Everyone deserves the luxury of a beautiful deck. You can set up your job in a way that fits your budget with these options.
Cost Effective, Innovative, and Efficient
Our decks offer these benefits:
High return on investment
Deck color and size options
Solar-powered railing lights
Material and fade warranties
Cost savings to fit any home improvement budget
Saves time: units can be installed in one day
5-Year no-cost guarantee
Best labor warranty in the business